Product Description
"Great For Pizza Places"
The Accu-Weigh® SM(N) series of stainless steel Universal Dial Scales (UDS), with capacities ranging from 2 lb to 50 lb (900 g to 22 kg), are used in a variety applications. Featuring stainless steel construction and NSF certification, the SM(N) series is particullarly appropriate for food service. The air dashpot option is convenient for fast, high volume weighing applications. The dashpot acts as a "shock absorber" to reduce the oscillations of the indicator needle to provide faster weight readings. A snap-on stainless steel platform is standard and two bowl options (10" scoop and 5 quart bowl) are also available.
Model # SM(N)-24PK -- 32oz x 1/4oz.
For a DashPot(Doesn't Bounce Around) click on Option Above:
NSF Certified
Several Capacities
Fine Point Indicator for Accuracy
Three Capacities
Removable Stainless Steel Platform
Accurate - Temperature Compensated Spring Mechanism
Easy to Read - 30° Tilted Dial
Rugged, Durable Stainless Steel Construction
Zero Setting Mechanism
8" Dial
For a Brochure on SM(N) Series Accu-Weight by Yamato Scales Click Below: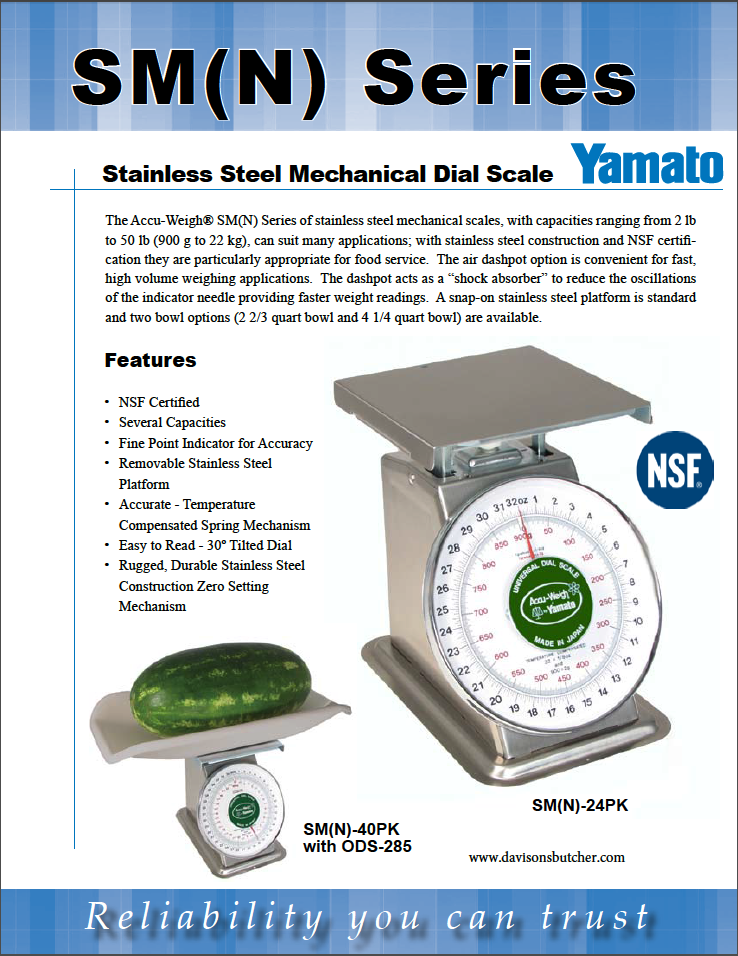 Product Videos
Custom Field
Product Reviews