Product Description
F50s - Talsa Hydraulic Sausage Stuffer / Filler - 95lb. Capacity
Stainless Steel:
LID
Piston
Barrel Bottom
Hydraulic Ram
Swivel Casters (Optional

)




F50s
Information:
This F50s High Hydraulic power to stuff the densest and most compact mixtures. Control and safety gauge. Speed control next to the operator.
Automatic motor start and stop when pushing the knee lever: much lower consumption, less heat and noise and extended life of the oil and hydraulic components. Motor thermal protection. Waterproof electrical box.
Immediate stop of the mixture output by automatic piston decompression.
Robust design, solid frame made of laminated stainless steel.
Rectified mixture barrel interior, perfectly round. In all stainless steel, even the bottom. Barrel with internal tube for discharge of air/water, simplified cleaning.
Completely sealed between barrel and frame, independent, no filtrations. Watertight Construction.
Lid and piston of thick laminated stainless tell, solid, very resistant.
Lid easily removable, smooth opening and closing movements, removable bolts, with handles.
Hygienic lid seal, solid piece, compact and resistant.
Piston with Large FDA fodo grade silicone seal, can be easily cleaned from the top of the barrel. Piston effortlessly self-detachable with robust hexagonal stainless steel piston extracting wrench

included

.

Soft knee lever, reversible, two possible operation directions.

Lock of the knee lever in the descent of the piston, it is not necessary to keep it pressed and automatically disconnects when reaches the bottom.

Stainless Steel Ram on the Hydraulic Cylinder. Divided into four parts for better service.

Horns of transparent food approved thermoplastic material: Better Tighten on the Lid and Display the Mixture at the exit. Standard with Diameters

14,20 and 30mm

(

.55",.79" & 1.18"

) - Plastic Tubes
Optional Tubes in Stainless Steel: (12mm,15mm,18mm,20mm,25mm,30mm,38mm,43mm)
Internal oil reservoir with built-in level view max-min (does not need check). Easily removable.
Standard with two wheels and two adjustable feet, anti-slip and self-adjusting and handle for displacement.
Options:
Four wheels (two swivel casters with extended anti-tilt brake and the two standard fixed).
Special Diameters or Length of Stainless Steel Horns Available.
Manual Portioner, (

20 Grams to 500 Grams

) - (

1oz. to 17oz.

)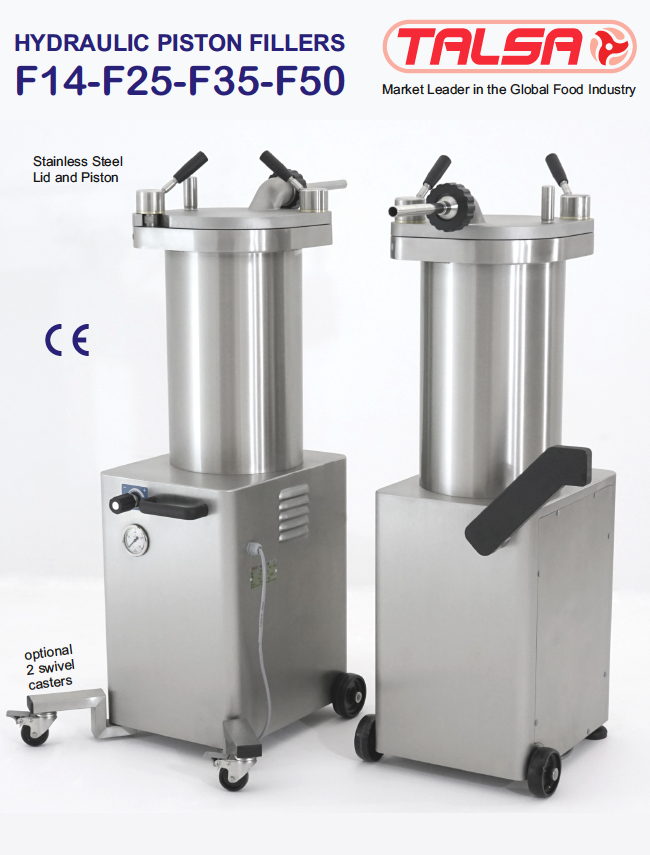 Product Videos
Custom Field
Product Reviews